About Portable Vaporizers
How WE Choose a portable vaporizer
When choosing a portable vaporizer we look for these benefits:

-Minimum 2-year warranty

-Easy to clean

-Easy to use

-Reputable brand names

-Positive community feedback

-History of reliability

-Convenience
THE PORTABLE VAPORIZERS WE RECOMMEND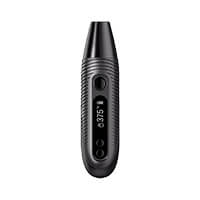 The Boundless CFC 2.0 (available in the Gibson Starter kit) is a handy portable vaporizer which includes single-digit temperature control and a small screen that allows you to choose the temperature you want. You can now choose the best operating temperature depending on your liking for a more fine-tuned approach to vaping.
Also, it sports an improved ergonomic design with a grip that will fit discreetly in your hand. Its textured grooves will keep your device cool, providing isolation from the heat. It also allows for the device to fit snuggly in your hand with a comfortable grip.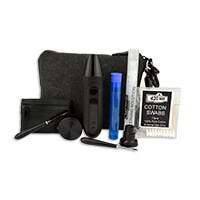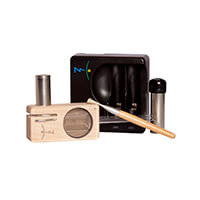 The Magic Flight Launch Box portable vaporizer (available in the Algonquin Park and Arrowhead Park kits) is so small that it can fit in the palm of your hand. It is simple to use with AA rechargeable batteries included and it heats up FAST, as vapour production begins within 5 seconds. When pressing the battery into the body of the unit, it heats the screen.
Conversely, when you stop pressing on the battery, the vapour production stops. Its clear window allows you to see the vapour as it forms, so you can easily judge when to start drawing. The Launch Box comes with a lifetime warranty and is easy to clean with a cotton swab and some rubbing alcohol.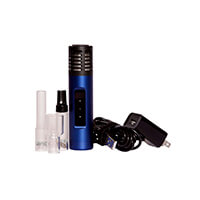 The Arizer Air II (available in the Mount Revelstoke Park kit) is the portable vaporizer with all the features. The digital display not only allows for single-digit temperature control but it is also a user-friendly guide to a host of other settings. The vaporizer is small enough that it is easy to grip but still has up to 1.5 hours of life in its replaceable battery.
The device can be ready in as little as 30 seconds and comes with 2 different mouthpiece styles. Once you've set your preferred temperature, the device takes care of maintaining it and remembers it for your next session. This Canadian company has a 2-year warranty on its super-easy to clean portable vaporizer.
The Storz and Bickel Mighty (available in the Jasper Park kit) is the little brother to the iconic Volcano vaporizer. The Mighty has a larger body than most other portable vaporizers. This is to accommodate the large oven and two big batteries giving it up to 1.5 hours of battery life.
Like the Air II, the Mighty has single-digit temperature control, but it takes a little longer to heat up. It's well worth the wait though. This German engineered and manufactured vaporizer produces a cool and flavourful top-quality vapour. On top of that, the Mighty comes with a 2-year warranty.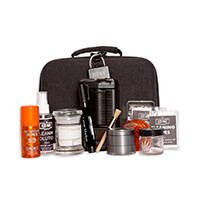 | | | | | |
| --- | --- | --- | --- | --- |
| | CFC 2.0 | Launch Box | Air II | Mighty |
| | | | | |
| | | | | |
| | | | | |
| | | | | |
| | | | | |
| | | | | |
| | | | | |
| | | | | |
| | | | | |
| | | | | |
| | | | | |
| Complete kit with accessories | | | | |
| | | | | |